Mainline Border Collie Centre is run by Barbara and Vicki Sykes who have been working and training dogs all their lives.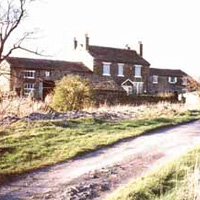 Born on the farm in Yorkshire (on the edge of the famous Ilkley Moors) and brought up with collies, Barbara's experience and understanding covers a wide range of topics, including several years shepherding.
A National and International sheep dog triallist, Barbara is no beginner when it comes to competition, with her dog Meg, they both had eight consecutive years competing in English National trial events and were part of the winning English team at the International sheepdog trials at Aberystwyth in 1983.
Vicki is also an accomplished trialist, has represented England at the International trials and competed in the programme One Man and His Dog as the young handler for England. Having grown up with Border Collies on the farm she is an accomplished sheepdog trainer and runs the farm at Mainline.
Mainline Border Collie Centre was founded in 1983, during which time it has helped owners and their dogs with handling sheep, basic obedience, problem solving, and canine behaviour.
Mainline's Border Collies work sheep and have appeared on televisions popular children's series 'Woof', 'Out of Sight' and Prime time viewing 'Peak Practice'. Some of the media representation for Mainline include tabloids, magazines, TV appearances and TV programmes. However, the main function of MBCC is for the welfare and future of the Border Collie.
Barbara and Vicki are consultants in canine behaviour and help people to understand not just how to teach a dog to be obedient but how to communicate with it and understand its needs as a dog – hence TLC-Thinking Like Canines was born.
Golcar Farm is a working farm, you will not find pretty tea rooms and gift shops but you will have a warm welcome and see farming as it is and dogs that live for work and fun.